Web Hosting Solutions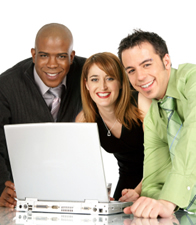 Business Hosting Plans (Shared Web Hosting Accounts) - perfect for most personal and small or medium sized business Web sites.
Virtual Servers (Virtual Private Servers) - great for larger Web site needs, including easily hosting multiple Web sites, Web site developers looking for a reliable and easy hosting solution for their own clients, ecommerce projects, a stand alone email server, or anyone needing more power and flexibility for their hosting needs.
Dedicated Servers (Managed Private Web Servers) - for the best in performance, reliability and security. Can easily handle the most demanding Web site needs.
If you're not sure which hosting solution may be right for you, tell us a little about your needs from our Contact Us page, or email us at This e-mail address is being protected from spambots. You need JavaScript enabled to view it , we're always happy to help.
In addition to great Web hosting, we also offer other valuable business services as mentioned in our website that will help make your Web site a success and make your online investment more secure, reliable and effective.